Popcorn
A Scout is encouraged to earn his or her own way. This can be done through the popcorn sale experience. There are a number of sales methods and techniques as Scout can use to be successful and reach any goal he or she sets. The popcorn sale is not about selling popcorn, it is about promoting Scouting, and encouraging community support for local Scouting.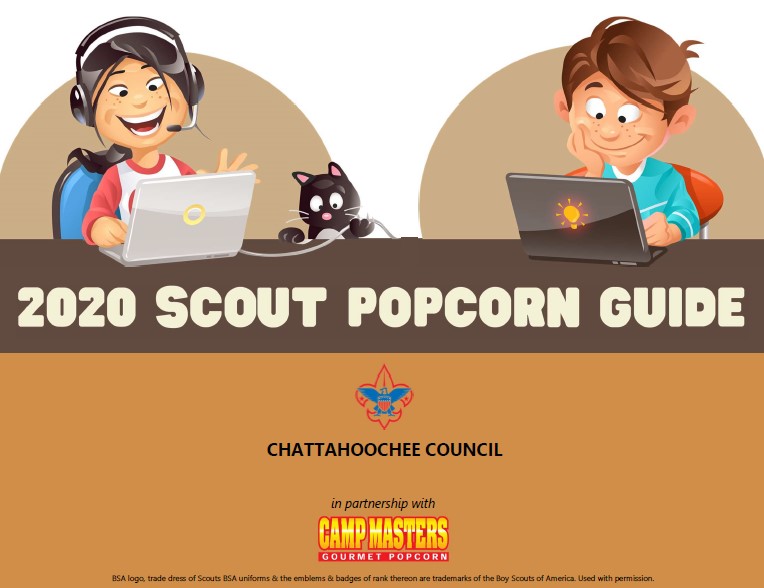 Sale Methods and Techniques
Show and Sell
This sales technique involves setting up a product display at a business or storefront in high traffic areas. The Scouts then ask those who pass through the area if they would like to support local Scouting by purchasing popcorn.
Take Orders
This sales technique involves taking the "Take Order Form" to family members, neighbors, church, and other locations and asking customers to place an order of popcorn.
Show and Deliver
This sales technique is a combination of the Show and Sell and Take Order methods. The Scout takes the person's order using the Take Order Method and then immediately delivers the product to the customer and collects payment, all in one visit.
Online Sales
This sales technique utilizes e-mail, social media, and websites to sell popcorn to those that are not local. A Scout, along with his family, sets up an account at www.campmasters.org.
Online Sales Recognitions, Drawings, and Incentives
Online sales are strong! Thank you to the units that have embraced and are taking advantage of online sales. This is an easy, no-risk popcorn sales method. There is no product inventory to manage, no product to deliver, and no money to collect. As a reminder, units receive 40% of all online sales.
Hometown Heroes
Customers have the option to give a donation to Scouting and popcorn to local first responders, and medical personnel. Units will receive commission on donations made through Hometown Heroes just as a traditional show and sell. For more details click here. To make a donation visit http://91bsa.org/popcorn&heroes.
Weekly Drawings
Scouts with online sales that meet the eligibility requirements will have their names entered into the weekly drawing. Full promotion details can be found here.
50 State Promotion
More online sales mean customers from more places. Any Scout that gets a customer sale from all 50 US states will receive a $50 VISA Gift Card. The 50 State promotion ends on December 1, 2020.
Key Dates
Date

Event

July 31
Pre Order Unit Product Order Deadline **
(no chocolate)
August 21
Pre Order Product Pickup
September 5
Sales Blitz Weekend #1
September 19
Sales Blitz Weekend #2
October 1
Final Product Order Opens
November 1
Final Product Order Deadline
November 6
Pre Order Payment Due from Units (50%)
November 20
Final Product Pickup
December 7
Final Payment Due for full 30% Base Commission
Individual Scout Rewards Due
Return Policy: Full Cases Only: up to 10% of total Show and Sell cases received by the unit, not to exceed 10 total cases per unit
Resources
| | |
| --- | --- |
| Popcorn Sale at a Glance | |
| Unit Leaders Guide | |
| Safety | |
| Scout's Online Sales Account Setup and Registration | |
| Change the Scout's Online Sales Account Profile/Update Unit info | |
| Unit Popcorn Product Order Change Request Form | |
| Take Order Form, page 1 | |
| Products, Prizes, and Order Form | |
| Prize Program | |
| CampMasters High Achievers Program | |