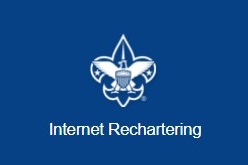 What is Recharter?
Every year, from October through December, all units (packs, troops, crews, & posts) renew their affiliation with Scouting. This process allows units to update their adult and youth members' information, pay registration fees, and renew Boy's Life. In an effort to provide uninterrupted programs to your Scouts, please work your unit recharter paperwork in a timely manner. Recharter paperwork is due to the Council office in December.

For questions concerning internet recharter, please contact your Unit Commissioner, District Commissioner or District Executive.
Steps to Success:
DO:
Attend your District's Recharter Kick-off & Training.
Contact your District Executive before October if your unit Institution Head or Charter Representative is changing.
Ensure the Council office has correct emails on file for the Cubmaster, Scoutmaster, Committee Chair, and Charter Representative.
Keep an attendance roster and be aware of any youth that have not been attending.
Identify adults who are registered in multiple units.
Print and turn in the Unit Charter Renewal Report Packet.
Meet with your Unit Commissioner to review your recharter paperwork.


DO NOT:
DO NOT Pay Online, the national system does not account for money on file at the Council office or Boy's Life tax. Changes cannot be made to your recharter if you have paid online.
DO NOT Wait until December 31, the registrar prepares the recharters ahead of time and makes every attempt to catch errors.
DO NOT Turn in the Summary Renewal Report or a draft.
Key Dates
*Recharter packets turned in to Unit or Recharter Commissioners by appointment only.
October 1st
Email to Unit Key 3 with Unit Access Code
---
November 1st
Units can now complete online rechartering and submit to Council. *Paperwork turned in by appointment only.
---
November and December Roundtables
Turn in Recharter paperwork to Unit or Recharter Commissioners, if available.
---
December 11th
Last turn-in day. *Paperwork turned in by appointment only
Internet Rechartering Tutorial
NEW! 2020 Annual Unit Charter Agreement
Unit Account Authorization Form
Additional Disclosures and Background Check Authorization
Position Trained Requirements
Journey to Excellence Scorecards