2022 Camp Card
Prize Drawings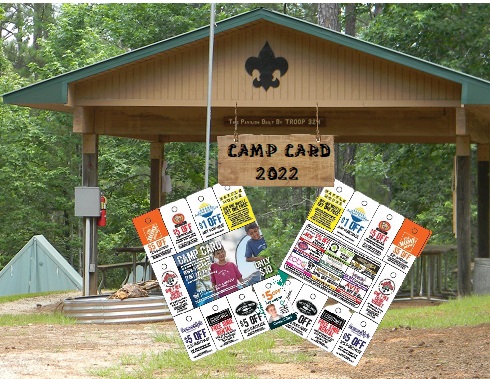 We will have several drawings for great prizes from April 1st - to May 31, 2022. Prizes at each drawing may vary and are based on availability; for example, $15.00 gift card, River Dragons tickets, Columbus Lion tickets, etc.
These drawings are open to all Units and Scouts regardless of whether your unit has opted in or out of the council prize program. A unit leader must submit qualifying names via email to Sara Banks by 5:00 pm eastern the Friday before the drawing. Names will not be carried forward from one drawing to the next.
To Qualify
Scouts qualify to have their name in the drawing based on the number of cards they sell during the outlined sales periods.
12 cards sold = name entered once
20 cards sold = name entered twice
24 cards sold = name entered three times
*For every 4 additional cards after 24 the Scout with get one more entry into the drawing.
Drawing Schedule
Cards Sold between Drawing on
Drawing 1: February 1 – April 1 April 4, 2022
Drawing 2: April 2 – April 15 April 18, 2022
Drawing 3: April 16 – April 29 May 2, 2022
Drawing 4: April 30 – May 13 May 16, 2022
Drawing 5: May 14 – May 31 June 1, 2022
*Online sales are tracked at the office and will be added to the tally sent by the unit.
To Enter:
Unit leaders will need to email the names of their Scouts and how many cards they sold between the dates listed. ***Names must be received by 5:00 pm eastern the Friday before the scheduled drawing.***
Entry Form:
To: sara.banks@scouting.org
Subject: PACK 123 Camp Card Drawing
Tommy Scout sold 12 cards
Tabitha Scout sold 24 cards