Amazing Heroes Campaign
May 23 – June 27, 2021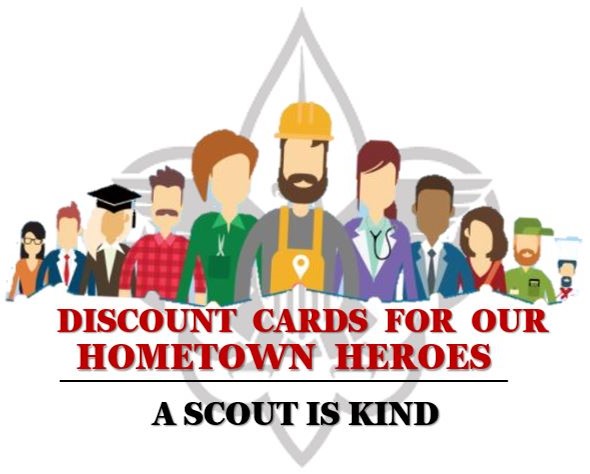 Text:
heroes2021 To: 91999
Website:
91bsa.org/heroes2021
A Scout is Kind… Be a part of our Amazing Heroes Campaign! This campaign is at no financial risk to your family or to your unit. Our goal is to thank all those heroes in our community that continued to go to work to bring normalcy to our lives during a time of uncertainty.

A Hometown Hero can be: Teacher, Retail Worker, Grocery store Clerk or Stocker, Farmer, Daycare provider, Janitor, Gardener, Restaurant Food Worker, Counselor, Doctor, Dentist, Nurse, Police Officer, Firefighter, EMT Workers, Military personnel, etc.

Your Scout or your Unit can promote this online campaign and we will deliver them, or your Scout / Unit can deliver the cards with a special message from the donors. Let us know in advance the mode of delivery for your campaign by filling out the following google form: https://forms.gle/RUkp4NsVshqEU9C7A
We've created these easy templates to post on your social media to help you get more donations. Feel free to copy and paste directly into Facebook, Twitter or personal email. We also have some visual assets (pictures) for you to download here to go along with your posts.
5-Week Amazing Kindness Campaign
Campaign Details
Weekly sales counted for drawing are cards sold on Sunday – Sunday.

Every Sunday, the count is reset and all previous entries are not valid.

One Winner each week announced the following Monday on Council FB LIVE!

May 31, June 7,14, 21, 28

Each Scout that sells 6 or more cards a week will get put into a drawing to win a $25 Amazon gift card

Have a chance at 5 Cards, 1 Card Winner per week

For every six cards sold, they get 1 entry for the drawing week

The Scout can only qualify for the week they sold in.

Example 1: Scout sold 12 cards, they get 2 chances to win that week

Example 2: Scout sold 11 cards, they get 1 chance to win that week



AND
Each unit will earn 50% commission on their cards sold.
Each unit will earn 40% towards their unit assessment for each card sold.
WIN – WIN – WIN
Social Media templates available to copy and paste
EZ Council Website navigation for customers
REMINDER
Don't forget to include some pictures of your Scout in action or use the photos provided below in your posts.
TEMPLATES



Copy and Paste directly from here into the social media of your choice.
SOCIAL MEDIA POST 1
SOCIAL MEDIA POST 2
TWITTER POST


(Under 140 characters)



LINKEDIN POST
SAMPLE EMAIL 1
SAMPLE EMAIL 2
PHOTOS



Click the image to download and use with your social media text.
Image 1

Image 2

Image 3

Image 4

Image 5

Image 6

Image 7

Image 8

Image 9

Image 10

Image 11

Image 12

Image 13

Image 14

Image 15

Image 16