Share your photos with us, post on Facebook and tag @Chattahoochee Council, Boy Scouts of America and #ScoutingAtHome
2nd Grade & 3rd Grade
Share your photos with us, post on Facebook and tag @Chattahoochee Council, Boy Scouts of America and #ScoutingAtHome
4th Grade & 5th Grade
Virtual Crossover
The Arrow of Light crossover ceremony is a milestone for every Cub Scout. During this time of stay at home /shelter in place, we encourage you to create a virtual crossover experience or delay the ceremony for later this year but keep ScoutingOn!
Cub Scouts
Share your photos with us, post on Facebook and tag @Chattahoochee Council, Boy Scouts of America and #ScoutingAtHome
Still, working on requirements? Don't worry. Here are a few suggestions for finishing rank requirements. Remember to Do YOUR BEST!
SCOUT OATH
On my honor I will do my best
To do my duty to God and my country
and to obey the Scout Law;
To help other people at all times;
To keep myself physically strong, mentally awake, and morally straight
SCOUT LAW
A Scout is Trustworthy, Loyal, Helpful, Friendly, Courteous, Kind,
Obedient, Cheerful, Thrifty, Brave, Clean, and Reverent.
Weekly Elective Adventures
Each Wednesday new electives will be listed. Click the image to see the requirements listed in scoutbook.com and check back here for tips, videos, supply ideas, and suggestions for completing requirements while Scouting at home. It's a fun and easy way to EARN Adventure LOOPS!
WEEK 4:
Lion Elective Adventure - I'll Do It Myself
Requirement 1: "Lion Scout" bag - Transform a "go green" shopping bag or paper bag with handles into a Lion Scout bag. Stickers, markers, make it your own
Requirement
2: Personal Care Checklist - Keep it simple. Talk about what personal care is and what your Scout can do. Make a checklist that is colorful and easy to follow.
Requirement 1
For families looking for more hands-on with your Scout, cut pictures from magazines that show those different hygiene skills. Glue them to a piece of paper and talk about how often that task should be done.
There are charts available online.
Tiger Elective Adventure - Safe and Smart
Complete Requirements 1-8. Requirement 9 is optional (not advised during covid-19). This elective focuses on fire and emergency safety.
Here are fun ways to help your Scout memorize their address and phone number
Wolf Elective Adventure - Collections and Hobbies
For requirements that involve sharing, visiting or in-person meetings, follow established guidelines for social distancing or consider a virtual meeting.
Requirement 1: From rocks to Lego minifigs and everything in between. What 10 items have you collected?
Requirement 2: Virtual meeting or if your den can meet safely present your collection.
Bear Elective Adventure - Make It Move
Explore motion with these simple DIY pullies and levers.
Before you get started check out this video to learn more about Rube Goldberg machines -
https://boyslife.org/hobbies-projects/projects/159359/how-to-make-a-rube-goldberg-machine/
Here are some items you will need:
popsicle sticks, safety glasses
cardboard (enough to make 2 circles), scissors, glue, string/rope, wooden skewer, plastic bottle, and 2 bottle cap carabiners, rubber bands, marshmallows (or cotton balls), paper, pencil

Requirement 1: "Exploding" craft stick here is a quick how-to and explanation of a chain reaction
https://youtu.be/F0jQgGz7GfY
Requirement 2: DYI Simple pulleys
https://youtu.be/rc0cpp3i8GA or
https://youtu.be/oGgCaFTcbHk
Requirement 3: Now try making a lever. DIY Marshmellow launcher - catapult
https://youtu.be/gwtMI6v9lug
Requirement 4: DIY
Rube Goldberg machine. Can you draw a machine with a least six steps?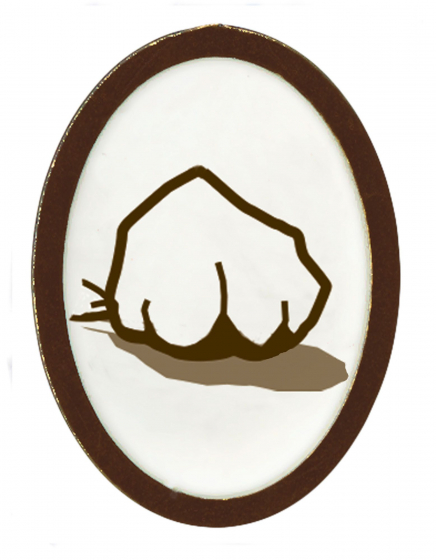 Webelos Elective Adventure - Earth Rocks!
This elective is all about ROCKS. You will need a magnifying glass, different rocks or minerals, masonry drill bit, steel nail, knife, copper penny
You will need to go on a rock hunt to start this elective. Collect as many different rocks or minerals you can find.
This Interactive map will enable your Scout to zoom into a specific area to see what type of minerals are in the area.
https://mrdata.usgs.gov/geology/state/map-us.html#home
Scouts BSA Rank Advancement
Share your photos with us, post on Facebook and tag @Chattahoochee Council, Boy Scouts of America and #ScoutingAtHome

NEW! Rank Requirements for Scout and Tenderfoot
Beginning on Tuesday, May 5th and continuing every Tuesday in May ending on May 26th, youth members of our Scouts BSA program will have the opportunity to select and participate in instructional sessions on Scouts BSA rank advancement for Scout Rank, Tenderfoot Rank, Second Class Rank, and First Class Rank.
For a complete schedule and to register via zoom, please visit www.91bsa.org/ScoutSkills.
30 Day Challenge for Scout to First Class Ranks
(Be sure to take pictures, keep a workbook and document what you are accomplishing.)
30 Day Challenge for all Scouts BSA Scouts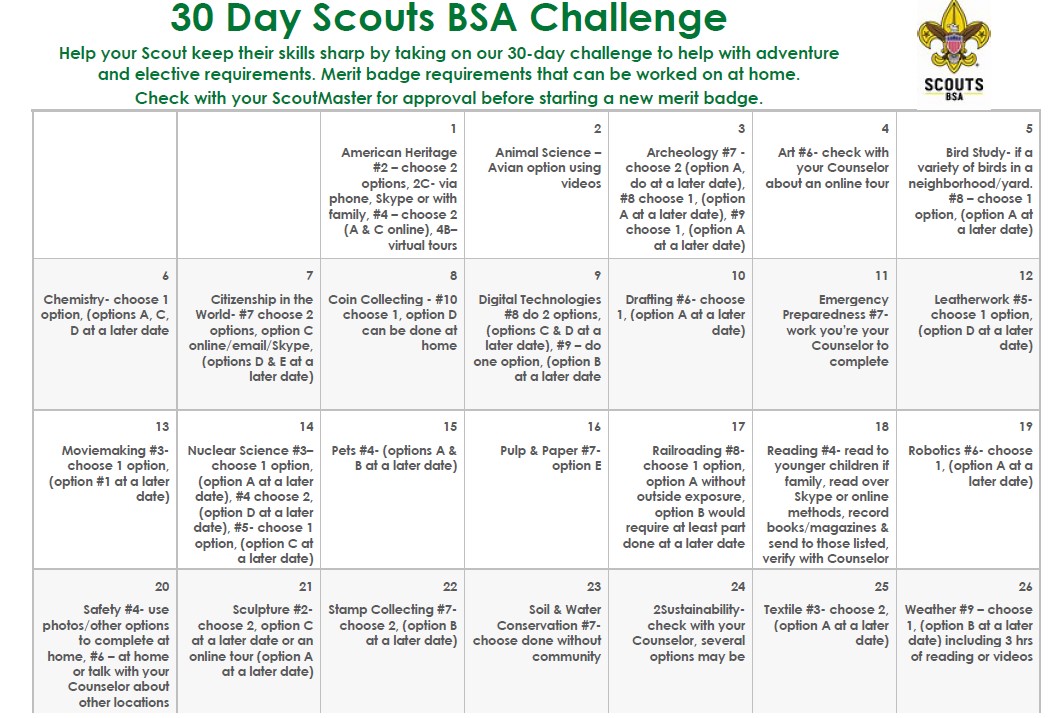 Scouts BSA Merit Badge Instruction
Merit Badges*
We are existed to offer Online Merit Badge instruction during this Scouting At Home period. For more information click Online Merit Badge Classes. We are also providing a list of Merit Badges that can be worked on or completed at home include (this is not a complete list). Talk with your Scoutmaster before starting any merit badge. Click here for fillable merit badge blue cards. Click here for online merit badge requirements and books.
HELP NEEDED! Online Merit Badge Instructors The Council is looking for volunteers to instruct Merit Badges online. Please contact George Henington or your District Executive if you are interested in leading an online merit badge. You can signup here to be a virtual merit badge instructor.
* Any and all communication with merit badge counselors and other leaders, online or over the phone, must include a parent of the Scout.
Scoutbook - How-To
Merit Badge Management in Scoutbook: https://www.youtube.com/watch?v=lD6po_nxTfc&feature=youtu.be